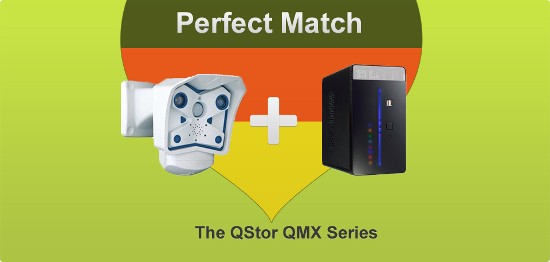 Hello!

Because I get so many email enquiries asking "which NAS is best for MOBOTIX systems?", I decided to do a quick video covering some key aspects that should be considered prior to installation...

It's important to note that the majority of NAS products on the market offering high storage capacities at very low prices, are designed for general document management. While it may be tempting to install one of these low cost storage devices into a security system, doing so may cause problems - mainly because these products are designed for low throughputread/write applications, typically for Home and SOHO use.

As an alternative many resourceful installers have experienced good results through building their own cost effective storage solutions - by combining a high quality storage chassis with enterprise-class drives. But finding the right combination is generally achieved through a long process of trial and error.

The other alternative is video storage NAS. Up front they carry a higher price tag, but there's a reason for that. These devices are quite different than Home/SOHO NAS products. It's not just about write and throughput speeds, because there are document NAS devices out there that offer high write speeds. Simply put, video storage NAS is made using the components needed to withstand the high demands of constantly writing video streams - standard NAS devices are not.

Video storage NAS is designed to last, even when used in installations where 365/24/7 recording is required.

In our interview with storage manufacturer Exus Technology, we uncover some of the functions and features you should look for when shopping for video surveillance storage for your MOBOTIX system... watch the interview here.


Browse Our Video & Tutorial Archive:
A login is required to view some videos. If you don't have a login you can obtain one by registering here
If you have opinions or product questions, post them in the Discussions Forum so that the MOBOTIX community can assist you!

H.264 or MxPEG?
Within the security industry there have been many and varied opinions as to whether or not H.264 offers the full range of benefits required to meet the rigorous demands of a surveillance application. Some are for H.264, others are not.

In this forum discussion, John Honovich, independent editor of online security site IP Video Market observed (quote), "H.264 and HDTV may be important from a specification/marketing standpoint but it provides little practical/technical benefit compared to Mobotix's 3MP MxPEG."

Branding cameras under the "HDTV" label has been an effective way, from a marketing standpoint, of selling H.264 to the surveillance market. However beneath all the hype there are key issues that have been overlooked. While very effective for streaming applications, when it comes to surveillance it's quite true that H.264 "provides little practical/technical benefits" compared to MxPEG, especially for video capture and recording - two critical aspects in a surveillance system.

For more information on the subject, you might like to read, High Definition and High Quality Are Not The Same Thing
---